Beyond visibility with messengers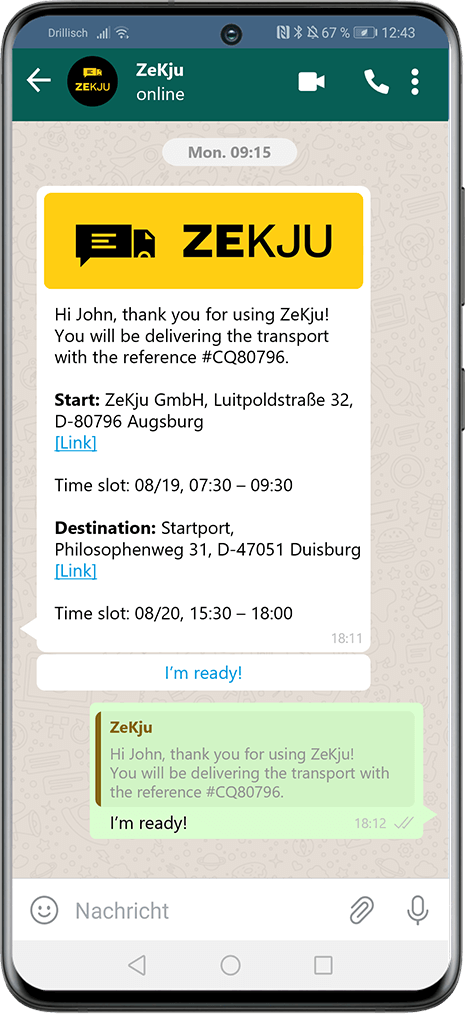 Transport based communication has never been easier!
Check our video to learn how drivers, dispatchers and supply chain managers benefit from ZeKju.
Visit us at IAA Transportation 2022
From September 22-29, we will present the Talking Tachograph together with VDO Link at the IAA Transportation in Hanover.
VDO Link from Continental and ZeKju close the gap between digital tachographs and drivers. According to the company, the plug-and-play solution will be the first of its kind and will make it possible to retrieve tachograph data such as driving and rest times in real time, even remotely, and forward it to a driver's smartphone messenger (e.g. WhatsApp, Telegram or Viber) – without having to permanently install telematics modules in the vehicle.
Continental has partnered with ZeKju to develop this service. ZeKju has developed a platform that makes it easier for drivers to comply with their legal obligations. Real-time tachograph data available in the cloud via VDO Link will help. Once a driver has registered with the tachograph using his driver card, he can use his smartphone to register for the talking device via a QR code. Then, in all situations where compliance is important, the driver receives a message via the smartphone messenger of his choice. For example, after crossing a border, he can be reminded to change the country code in the tachograph. Even the playout of short training videos is possible.
A major advantage for fleets with many international drivers: The talking tachograph sends messages in a total of 19 languages.
We look forward to meeting you in person. Simply make an appointment with us here.
Designed to be truck drivers' favorite communication tool

User-centric:
Maximum driver acceptance by using popular messengers

Hardware and app free:
No need to install any apps or buy new hardware

Spot market ready:
Unknown truck drivers can onboard themselves in less than 30 seconds by just scasnning a QR code
Value-added services:
Smart status buttons and auto-translation of messages
Data privacy:
Encrypted fully GDPR compliant service
When it comes to flawless transport execution, three challenges prevail:

Error-prone communication:
The phone remains the #1 communication tool for drivers and dispatchers. The advantages of digitalization such as automatic translation remain unused

Spotty
visibility:
Short-term subcontracting makes it difficult to achieve visibility coverage rates >60%. As a result, downstream process quality and customer satisfaction suffer.

Slow, paper-based document flow:
Drivers and dispatchers rely on paper documents. Consequently, payments are only issued days after the physical transport.
Our team of experts will be happy to showcase our expertise in a software demonstration.
Take advantage of this free opportunity and learn how to digitalize your driver communication.
"Drivers love that they do not have to install yet another app."
"ZeKju is very easy to use and integrates drivers more into the logistic process."
"It's good to know where cargo is now. But it's even more important to be able to act quickly when something goes wrong."
"Today more and more truck drivers come from many parts of the world. The reason for this is the driver shortage in Europe. It is important to overcome language barriers."
Test ZeKju for yourself.
Scan the QR code for an interactive demo.