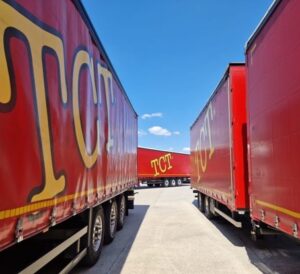 TCT and ZeKju make the Spot market more transparent
Real-time updates for more than 2/3 of Spot transports!
The creation of real-time visibility (RTV) is a core topic of supply chain digitalization. RTV is the foundation for supply chains to become more robust and automated.
Thanks to the telematics connection of its own vehicle fleet and permanent subcontractors, TCT has long had a high level of transparency about the geoposition and status of its transports. Only Spot market transports represented a "white spot".
Since spring, TCT has been relying on our messenger technology to close this Spot visibility gap. With success: We are already able to collect status messages for more than 2/3 of the TCT Spot transports and geopositions for a about 50% of the Spot transports – and these numbers keep on rising. This is a great success in a challenging Spot environment!
The key to success is the combination of ZeKju messenger communication and TCT's close cooperation with Spot entrepreneurs. Many thanks to the TCT team – we are looking forward to our next mutual achievements!