Visit us at IAA Transportation 2022
September 13, 2022
From September 22-29, we will present the Talking Tachograph together with VDO Link at the IAA Transportation in Hanover.
VDO Link from Continental and ZeKju close the gap between digital tachographs and drivers. According to the company, the plug-and-play solution will be the first of its kind and will make it possible to retrieve tachograph data such as driving and rest times in real time, even remotely, and forward it to a driver's smartphone messenger (e.g. WhatsApp, Telegram or Viber) – without having to permanently install telematics modules in the vehicle.
Continental has partnered with ZeKju to develop this service. ZeKju has developed a platform that makes it easier for drivers to comply with their legal obligations. Real-time tachograph data available in the cloud via VDO Link will help. Once a driver has registered with the tachograph using his driver card, he can use his smartphone to register for the talking device via a QR code. Then, in all situations where compliance is important, the driver receives a message via the smartphone messenger of his choice. For example, after crossing a border, he can be reminded to change the country code in the tachograph. Even the playout of short training videos is possible.
A major advantage for fleets with many international drivers: The talking tachograph sends messages in a total of 19 languages.
We look forward to meeting you in person: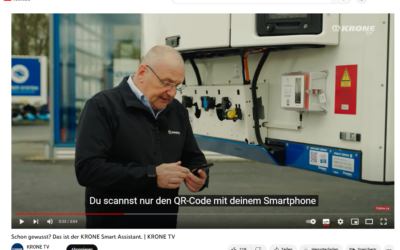 Check out the new KRONE.TV video: Trailer handovers through messenger Check out the new Krone.TV...