How WhatsApp, Telegram & Co can provide value for courier and express services providers
November 25, 2022
Shippers demand maximum transparency about their express and courier shipments – ZeKju helps to close costly visibility gaps

taking a pragmatic approach

.

 
Augsburg, November 25, 2022 – If things have to move fast, shippers are willing to pay high prices for a transport. To justify these prices, courier and express service providers have to deliver not only the best quality but also maximum visibility. In the field of visibility, customer requirements are increasing. Some large buyers of courier services require up-to-date geo-positions of their transports at intervals of less than 5 minutes.  
In no other area of logistics are smooth processes as important as in express and courier segment. If delays or disruptions occur, they must be identified and addressed immediately. This requires permanent tracking. Real-time visibility (RTV) is becoming an industry standard. Already today, courier and express service providers who drive for the automotive industry must reckon with financial losses if they do not offer full real-time transparency coverage.  
Market fragmentation as a challenge  
There is no standard approach to implementing RTV. Market leaders such as Redspher or InTime use telematics systems for own trucks and ask fix subcontractors to connect their trucks via telematics, too. In addition, they use tailor made driver apps. Either solutions can provide stable and real-time geo-positions. However, both approaches can only be implemented with own trucks or subcontractors who are tied to their client long-term.  
Around 80% of the 15,000 companies offering courier and express services in Germany are small businesses. Many of these companies look for their demand on the spot market at short notice. Since the "Super RTV App" does not exist, drivers are regularly confronted with the ask to install new apps. Many drivers lack the time and the desire to do so, resulting in costly tracking gaps.  
Messenger services can help close the real-time visibility gap 
Where time and motivation for new apps are lacking, an approach that does not cause drivers any additional effort is key. This is where messenger services like WhatsApp come into play: according to a survey by the German Federal Network Agency, 88% of the German population regularly use online communication services, especially messengers. Most drivers are familiar with WhatsApp, Telegram & Co. and have at least one messenger on their smartphone. ZeKju builds on this. Using ZeKju, courier and express companies can invite drivers, directly or via their subcontractors, to share the status and location of a transport. Drivers do not need to register; their data is protected, and they benefit from the built-in auto-translation of chat messages.  
Data protection and data security are the be-all and end-all 
The highest priority for ZeKju is the protection of user data: only data that is absolutely necessary for transport processing is collected. Personal data is anonymized and deleted after completion of the transport. Compliance with data protection standards also includes that all data is processed on secure, European servers. 

The Real-Time Visibility Target Image for Courier and Express Companies
The use of ZeKju by leading courier and express service providers has confirmed the high user acceptance. Since costs for app development and maintenance are eliminated, ZeKju also scores points for cost efficiency.  
Practical experience shows that a combination of telematics (for own fleets), ZeKju and apps can achieve maximum RTV coverage.  
Book your appointment here:
https://outlook.office365.com/owa/calendar/ZeKju1@zehkju.com/bookings/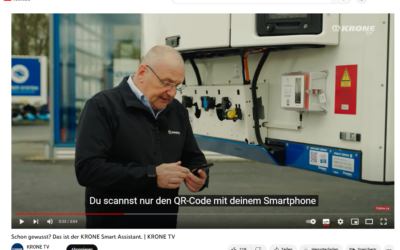 Check out the new KRONE.TV video: Trailer handovers through messenger Check out the new Krone.TV...